The Vineage Series
Vines carry the emotions of death and growth. The strings of vines connect from the older base tree to new leaves and their organic patterns fascinate me. When vines entangle a tree they slowly strangle the tree and steal its light. New growths are selfish and greedy, yet abstract and beautiful. Family ties are symbiotic like trees and vines; one is fading away, while another is taking off.
New Event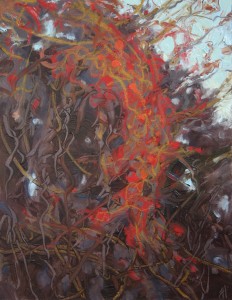 The Vineage Series: Bittersweet
A continuation of The Vineage Series into the Fall.
New small pieces are now available at The Harrison Gallery in Williamstown, Ma.
"Another End" 18 x 14 inches, oil on canvas. Click on image to view full series.