3/12/20
Montague Reporter – montaguereporter.org
ArtBeat
Beautiful and Dark: The Paintings of Jamie Young
These are excerpts from Trish Crapo's interview.
The full article can be read at: montaguereporter.org
By TRISH CRAPO
ASHFIELD – On one of the coldest days of February, Ashfield artist Jamie Young and I sit in the kitchen of her 250-year-old farmhouse and talk about her unusual landscape paintings depicting native trees being engulfed by invasive vines, an invasion Young says has escalated with the onset of climate change. The paintings, some of which you can see now through March 14 at William Baczek Fine Arts in Northampton, are alive with tangled energy, both beautiful and dark with apocalyptic warning.
Bathed in gorgeous light, depicted with Young's calligraphic brush strokes, is the earth's most basic struggle: the struggle between life and death.
"…there's a darkness to them," Young says of the paintings. "It's a little bit scary. It's complicated… like in chaos theory, there are patterns that emerge. I relate that to these big tangles – there are all these different patterns going on. There are big leaves, and little leaves, and the patterns of the trees underneath them. And the patterns of the vines' leaves. …they intermingle…one thing is dying, and one is growing…which I think is fascinating."
Young became a landscape painter at 15, and has been painting ever since.
"It's an emotional compulsion. I have to paint," she says. "If I don't paint, I feel ungrounded. I feel muddled."
Young's impulse to create and her love of the woods evolved naturally into her interest in landscape painting, which she sees not only as a creative outlet but as a documentation of the world around her. It's through this close study of the landscape that she's recognized the effects of climate change. Even 30 years ago, she says, she'd go out into the meadows near the airport in Northampton and see invasive vines sprawling across the ground and up into the trees. But in the last 15 years, their growth has intensified.
"If you drive down 91 and look at the sides of the highway, it's overwhelming how much there is," she says.
The thickest vine growth tends to be close to major roads and in areas of dense human population, Young tells me. "This may be due to birds' migratory routes, or trucks and cars may be inadvertently transporting seeds from one place to another. Warming temperatures have enabled formerly southern species, such as Virginia creeper, to thrive farther and farther north.
Young's painting, Tomorrow, depicts bittersweet, Virginia creepers, honeysuckle vine and fox grape climbing over sumac and white pine. For Young, a painting like Tomorrow is very much about the extreme shifts in nature brought about by climate change, …"
"The light is always beautiful," she says. So people's responses to them (the paintings), they're mostly responding to the light."
It's become increasingly important to Young that people know more about what the paintings mean to her. …"This is the biggest issue our community faces – our community being the whole world."
If the planet becomes uninhabitable, there is no other issue, political, social, or otherwise, I say.
Young agrees, but adds, "I keep going back to what Al Gore said. That there is hope. And I've heard a lot of other environmentalists talk about it too, there is hope."
But like her paintings, the light Young expresses is shot through with dark. "We're going to lose a lot of people," she says. "A billion people might die. And a lot of them will be the poor. The world will look vastly different and it will change so many things. We'll lose a lot of species, which is already happening. But in the end, some people – the human race – will survive."
"But I do approach it with hope," she reiterates. "And I think that's the main message that I want to put out in the paintings. That there is still beauty and spirit and hope. Those things will not go away."
… "There's a spirit in nature," she says, "a spirit in the earth that is so powerful that no matter what we do, it's going to be there."
See some of Young's work in the 2020 Landscape Exhibition, a group show at William Baczek Fine Arts, 36 Main Street, Northampton, now through March 14. Hours are Tuesdays and Wednesdays, 10 a.m. to 5 p.m.; Thursdays through Saturdays, 10 a.m. to 6 p.m.; and Sundays, 12 to 5 p.m. For more information call the gallery at (413) 587-9880 or visit online at wbfinearts.com. Find out more about Jamie Young's work at jamieyoung.net.
1/22/18
On exhibit at the Catamount Art Center, St. Johnsbury, VT  thru Feb.16th, 2018
This show is almost over and the Catamount Art Center rocks! The opening was a big party for the northern New England artists. We got to see art from all over the country too. Great art and great people!
Read a recent review in Artscope here: Artscope_JanFeb18_Catamount Review
Fran Gardino's photo "Georgia on My Mind" is on the opposite end of the gallery from "River Head Rain" and the two pieces compliment each other so well I was glad that Artscope chose to put them together in this article.
Many thanks to the publisher of ArtScope Kaveh Mojtabai and the writer Elayne Clift.
Thanks also to John Stomberg for curating and to Katherine French, director of the art center for putting this show together.
River Head Rain
It was raining hard when I paddled up stream to the river head. I sketched this tree from a kayak while hiding under a big tree that was downed over the river.  The rain was warm and finding this tree was exciting making it a great trip. I was then obsessed with this tree until the Spring floods took it away. Now I have many sketches and photos to work from.
9/8/17
Click on image to watch the progression of my painting: Factory Hollow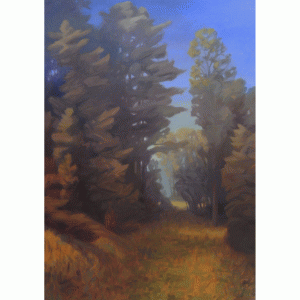 9/8/17
Jamie has three paintings in the 2017 Landscape Show at the William Baczek Gallery, in Northampton MA
September 6 – October 7, 2017
Opening Reception: Saturday, September 9   5 – 7 p.m.
12/8/16
Jamie has been accepted into the William Baczek Fine Art Gallery, in Northampton MA.
New pieces available: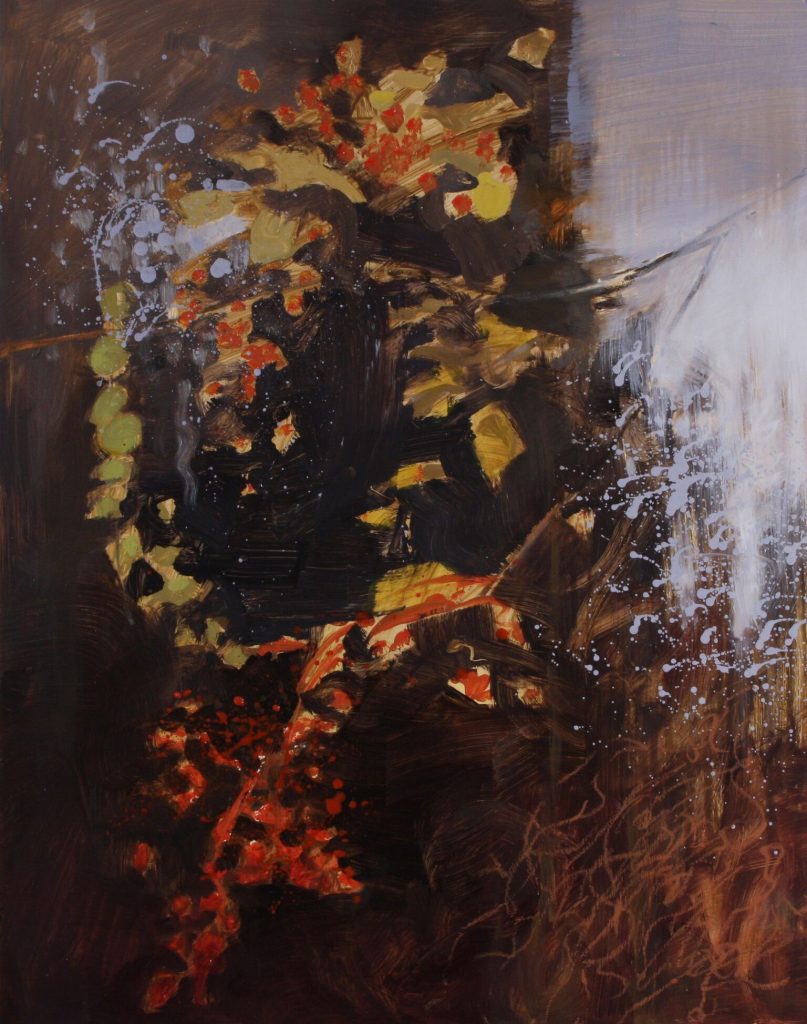 -Sweet Mix 28×22 in. o/p 2015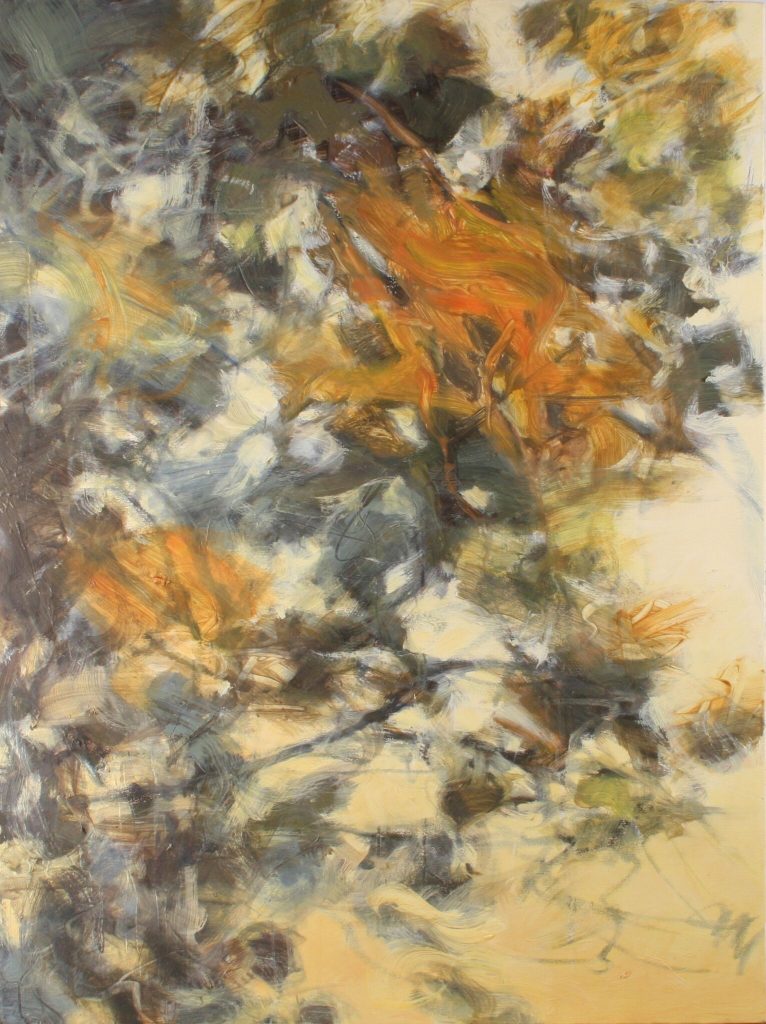 -Days Gone 40×30 in. o/c 2012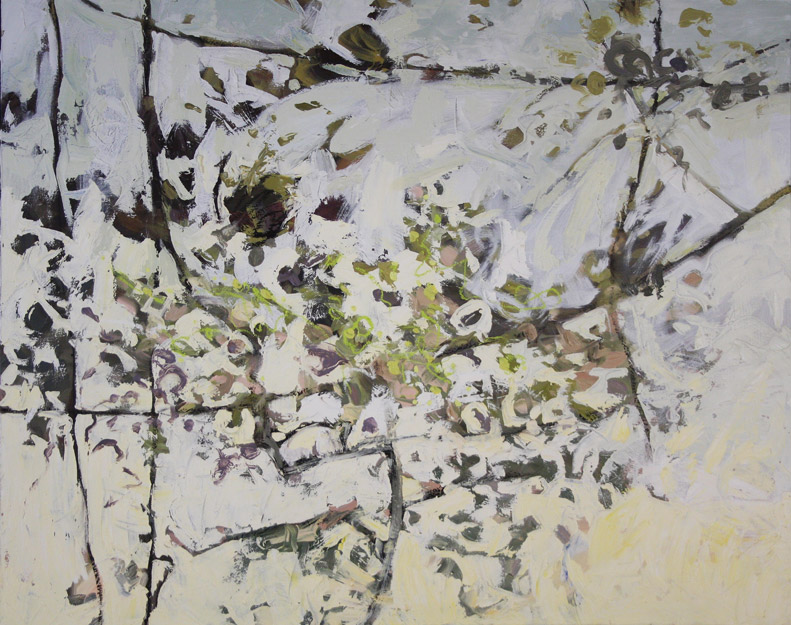 -Lashway Locusts IV 40×50 in. o/c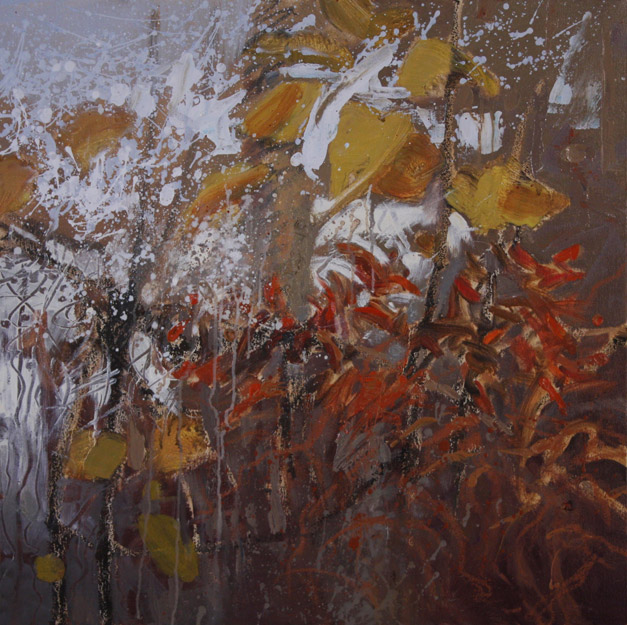 -Flock of Leaves III 24×24 in. o/c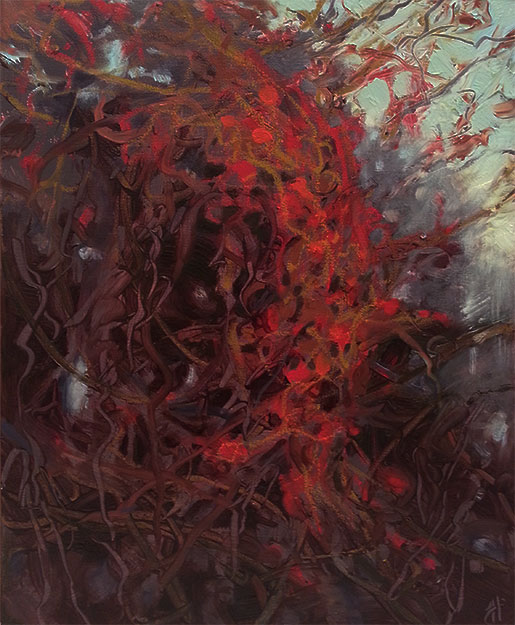 -Another End 18×14 o/c
---
9/1/16
Jamie is honored to be included in the Landscape Show with several skilled artists. Her style is progressing into the semi-abstract.
William Baczek Fine Arts
36 Main St.
Northampton, MA
Thursday, September 8 – Saturday, October 8
Opening Reception
Saturday Sept. 10th 5:00 – 7:00
---
07/14/16
The latest series 'Chaos and Light' is on exhibit at
The Brattleboro Museum & Art Center
Now through October 23, 2016
Free to the Public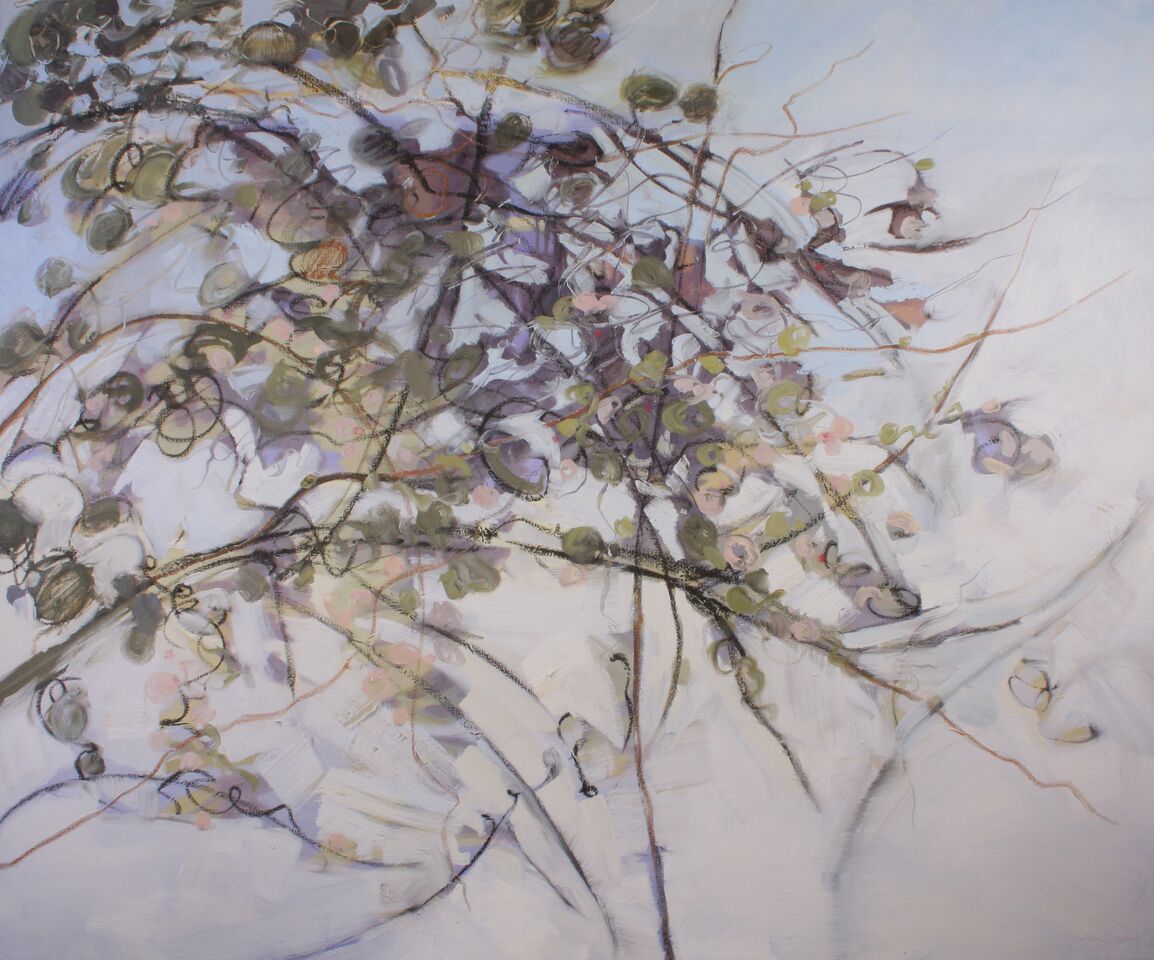 Jamie has been working on the Vineage Series for many years, exploring several species of vines covering trees all over New England.
"I am fascinated by the chaos of the climbers, their varied forms, and the subtle patterns that emerge. Over time the work has become more energetic and complicated to reflect the uncertainty, threat, and beauty of change."
RELATED EVENTS:
July 14, Thursday, 7:30 p.m. – Artist Talk: Jamie Young
August 28, Sunday, 2 p.m. – Curator Tour with Mara Williams

Plein-Air Painting Workshop with Jamie Young
Saturday, July 23
Noon – 5pm
Brattleboro Museum, Brattleboro, Vermont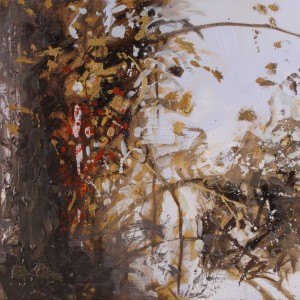 Enjoy the fresh air with beautiful river views and instruction with artist Jamie Young
A discussion of materials & techniques for painting outdoors will be ongoing. Jamie will work individually with each participant. All skill levels & methods are welcome. A portion of the proceeds of this event will benefit the Connecticut River Watershed Council. Rain date: Sunday, July 24.
Cost $150, includes box lunch. Registration required.  Click here to sign up!
---
12/24/14:
Jamie's "Coast Guards" will be in the upcoming show: "Wetlands, Ever Changing Waters, Land, and Life"
January 15 – February 20, 2015 at Sebastapol Center for the Arts. Sebastapol, CA.
This is an environmental art show focusing on changing wet lands, rivers, marshes and the ocean. "Coast Guards" was painted in 2010 from sketches done from a kayak in the Florida Keys. This spawned a series of paintings called "Coast Guards". When developing a series Jamie does many sketches and paintings of a subject, all in an attempt to get the feel of a thing, or core of it, and translate it onto canvas. The Coast Guard Series has a dozen paintings of the mangrove keys. As the mangroves grow out into the water they create new islands or keys. The dense mangrove forests slows the storm surges and sea rollers and lessens flooding inland. The mangroves are also nurseries for many species of fish, marine organisms and birds. This show is in collaboration with the Laguna de Santa Rosa Foundation.
---
9/30/14:
Jamie Young: The Vineage Series – new works
Opening this Saturday, October 4th at The Harrison Gallery, Williamstown, MA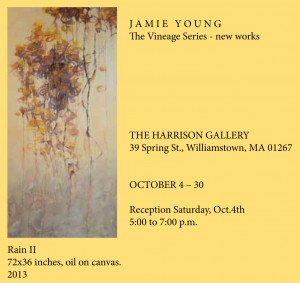 ---
9/3/14:
A short video from Jamie Young's Artist talk at The Danforth Museum:
Danforth Artist Talk
---
8/18/14:
This Wednesday, August 20th at 1:00 p.m.  Jamie will be giving a talk at Dedee Shattuck Gallery regarding her process.
Dedee Shattuck Gallery
865 Main Street
Westport, MA
and…
October 4th – 30th she will have a solo exhibit, Fall Vines at: The Harrison Gallery
---
6/5/14:
-This Sunday, June 8th is the opening of the annual juried exhibiton; Off the Wall at Danforth Art Museum/School. Jamie's painting "One More Day" has been selected for this exhibit. Jamie will be giving a Spotlight Talk on her piece at 1:00pm.
-Jamie will be presenting her work at the ArtSalon at Snow Farm Thursday June 12 along with four other artists: Carolyn Webb, Carolyn Clayton, Nan Fleming, and Dan Ladd.
Refreshments at 6:30pm and Presentations begin at 7:00pm
$5 Suggested Donation. Contact valleyartsalon@gmail.com or visit www.theartsalon.com for more information.
-Upcoming exhibit at Dedee Shattuck Gallery
Jamie Young and Bryan McFarlane
opens July 30-August 24, 2014
Reception Saturday, August 16th 5-7pm
Dedee Shattuck Gallery
865 Main Street
Westport, MA
---
4/28/14:
Jamie's painting "One More Day" has been selected for the upcoming Off the Wall and Community of Artists showcase at the Danforth Art Museum/School in Framingham, MA. Opening Sunday June 8th. Please visit the Danforth and see the show!