Chapter 8
A Baby Boy
One year old Sean on Danny.
The cordwood and logging didn't pay enough to cover our mortgage and truck repairs. Bob had many carpentry jobs with his partner, Mike. We also delivered hay to local farms with our big truck for John Bell, a hay hauler and horse trader in Winchester. I also retrained race track horses for Mr. Bell. There were usually about thirty horses to work with. The barn crew and I would go to Hinsdale Race Track and pick up the too slow or broken-down race horses so we could retrain them to be used for trail rides. Back at John's ranch we ran them on a quarter-mile track and trained them to slow down. We also took them on trail rides which was what most of the horses were sold for. In the summer we had carloads of people come for trail rides on the better horses, I even brought Danny there for a few months. The trail ride customers were afraid of Danny's size, but he was the best horse for beginners.
The winter of 1975-1976 I was working in the cafeteria kitchen at a local boarding school. I was a prep and salad cook, which meant I made huge salads for five hundred students and teachers and put the salad in individual bowls. The cooks gave us piles of vegetables to be chopped for later cooking by them. Also we dished out the deserts and served food on the cafeteria line. Many times I rode Danny to the school in town, which was about a four-mile ride. In a backpack I carried hay and grain that I gave to Danny when I tied him to a tree on the edge of the school grounds. He was tethered where I could see him from the kitchen window and I checked on him often. One day the kitchen manager came to me and asked me not to keep riding Danny to work as he was damaging the lawn where he was tied. So that ended my nice ride to work but I traded an extension cord (which I didn't need since we had no electricity) for an old bicycle. That made for a wild ride down our logging road in my white kitchen uniform. Trying to stay clean was a challenge.
One time I came upon a huge snapping turtle trying to cross the state road to get to the river. Tractor-trailer trucks used this route and I was afraid he would be squished. So I got off my bike and nudged him with my bike tire to get him to move to the edge of the road. That big turtle stretched out his long neck and bit my tire faster than a blink of an eye. He latched on and wouldn't let go so I dragged the bike and turtle to the bushes and left it all there. I walked the last half mile to work and when the day was done came back to find my tire flat and the rim bent where he had bitten it. That was a lesson on how powerful and fast those snapping turtles are. I had a lot of respect for them after that.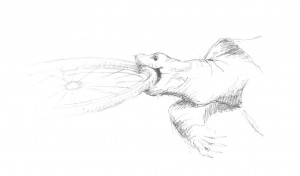 Snapping turtle on the road.
I got my tire repaired and kept biking to work. The bike had a basket on the front and I would bring home all the carrot peelings and old lettuce for Danny. After one Thanksgiving I brought home four leftover pumpkin pies. As a joke I held one up to Danny and he dove his nose right into the whipped cream on top! He loved it and ate the whole thing leaving a ring of whipped cream on his nose.
In April, I went to the doctor in Keene and found out I was going to have a baby! Bob and I were so excited, and a little fearful about how we would manage to have the baby living a mile and a half into the woods and how we would take care of him with no running water or electricity. My due date was in December which made it even more troublesome. We decided that although we were going to natural childbirth classes, I would not have the baby in the cabin. That would be too risky. If the delivery ran into problems the baby's and my health could be jeopardized. So I made arrangements to have the baby in the Brattleboro hospital. We had a few months to think about how to set up the cabin for our baby.
As I grew bigger, I had to stop any logging with Danny. The harness had become too heavy for me to lift onto his back so I rode him bareback. Soon my belly was so big that jumping from the ground became impossible. To get on Danny, I had to climb up on a rock or the fence near his shed so I could hop on from above. Danny became more of a companion then because during the day Bob was off the land working on carpentry jobs, so that left me and Danny alone in the woods. I let him out of the corral and he wandered around the cabin and garden. Sometimes I would be working on something and Dan would nudge me into playing our boo game. It was a beautiful time, waiting for the baby.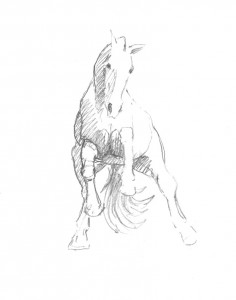 Boo game.
I worked on things around the cabin that were less strenuous. The garden had a bumper crop so I was busy harvesting and canning so we could eat well through the long winter. Since July I had put up a few jars a week until I had ten cases of canned tomatoes, beans, pickles and blackberry jam. Plus bushels of carrots, onions and potatoes as well as apples that we had bought from a local farm. Usually, when we were home in the winter, there was a fire going all the time in our woodstove, but I knew that when I left for the hospital everything would freeze and the harvest would be spoiled. We needed a root cellar below the ground that would hold a steady temperature above freezing. So I set out to dig a cellar into the side of the hill our cabin was on. Using a mattock, shovel, and a pickaxe, I worked about two hours a day on the cellar and finished it within a month. It was small, four feet wide, six feet long and six feet deep, just big enough to store our canned goods and the bushels of vegetables. Bob made a door of plywood and rigid insulation with a vent pipe.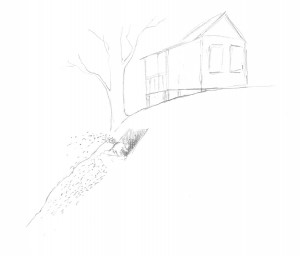 Root cellar.
Now that I had more spare time I rode Danny to visit Edie and have tea with her. We talked of gardens and recipes for canning and methods of drying the produce from our gardens.
Bob and I went to classes to learn how to have a baby using natural childbirth and how to nurse. Bob drove me to Brattleboro once a week for classes and then we had our special treat: dinner out in town. The rest of the week I stayed at home and sewed clothes by hand for the new baby. I made him a quilt and several warm sleeper gowns.  My mother gave us a crib and a baby seat that rocked. Friends gave us a swinging baby seat and many baby outfits. We seemed to be all ready. Now came the waiting for labor to begin.
In the last three weeks, the doctor didn't want me to ride anymore, so I just sat and talked to Dan. I had always talked to Danny. He knew more about me than anyone and I think he liked it when I talked to him. He'd lower his head and put his big nose next to my shoulder and stay there as I told him my fears and anticipations. I know I always felt better after our talks. Horses make the best listeners, like dogs, they don't talk back they just listen. As the big day approached, I had more to say to him than ever.
I was worried about labor starting during a snowstorm or the baby coming too quickly and not being able to get out of the woods. My family and friends were worried too and they talked me into staying at my grandmother's house in Vermont the last week. My parents stayed with us and Bob drove me to the hospital in my dad's nice car.
On December 27th, during a huge blizzard, Sean was born. We were so happy and lucky to have made it to the Brattleboro hospital. I had an eight-pound, healthy baby boy. All our fears vanished looking at that beautiful baby. Two days later our friend Bill picked us up at the hospital and drove baby Sean and I home because his truck had a better heater than ours. I walked the last short bit up the hill to the cabin with Sean inside my coat in a baby "snuggly" carrier. The snow was deep and that little walk wore me out. As I came in sight of our clearing, Danny whinnied to me and came running down the hill to the corral gate. It was so good to see him and be home at last.
In the late afternoon, after a rest, we brought Sean over to Danny's stall. Dan sniffed and snorted and gave a little nuzzle.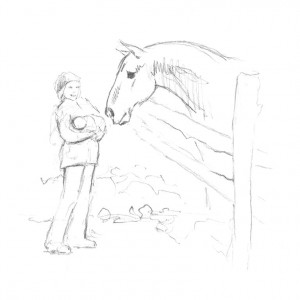 Dan meeting Sean for the first time.
Many days we sat in the sun on our cabin porch with our new baby boy all bundled up. Dan was allowed to roam loose around our clearing, but mostly he stayed at the porch entrance with his big head hanging over the edge to be petted. Dan would be right there to sniff and gently nuzzle the Sean and Sean would try to touch Danny's nose. That always made Sean do a big belly laugh, it was so funny it would get everyone laughing.
Not many months later, when the weather was fine, I took Sean riding on Danny in a pack on my back. When Sean was a little bigger, he sat in front of me and held the reins. He always wanted to "drive." Sean called Danny "Big Dog" – to him a horse looked like a bigger version of our dog, Louie. Both were dark-colored and had four legs. Bob took pictures of Sean when he was still in diapers sitting on Danny's back (I held onto Sean from the other side of Dan so it looked like our baby was riding by himself). Both Dan and Louie were very gentle with Sean, never hurting him in any way, and always staying close to him.
A year later when sugaring season began, a friend of mine babysat Sean while I worked.  She would bring Sean over to the sugarhouse and at the age of one and a half, he knew right where the bottling tank was. The four spigots were just at his level and he would take a small sampler paper cup and fill himself a tasty treat. I had to be careful he didn't drink too much and get a stomach ache.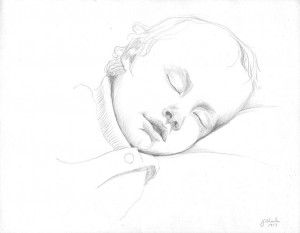 Sean sleeping, 1977.
Each spring our friends got together for a huge family poker game and potluck supper in the next town. It was a penny poker game and everyone brought their kids and food. Sean was fourteen months old and he loved listening to and watching all the kids play. It was in late April, the leaves were out but it was still cool weather. I knew there was going to be a cold rainstorm that night. I put Dan in his shed for the night and gave him a bale of hay and two buckets of water. Danny never liked staying inside his shed or having a blanket tied on him, he would always tear them off. He needed to stay dry so as not to get sick. So I tied two poles across the entrance because I wanted Dan to stay inside.
We went to the party with baby Sean and had some difficulty getting there in our logging truck. With no weight on the back, the truck slipped around on the icy roads. It took us an hour to make what was usually a fifteen minute trip. We could feel the temperature dropping.
We had a great time at the party and when it came time to leave, we opened the door to a snowstorm. Bob knew the truck would never make it back with snow on top of the ice. Our friends offered everyone there a place to sleep for the night. I thought Dan would be all right with enough food and shelter, so we stayed.
The next day we drove back home and had to park halfway in because ten inches of snow had fallen and we couldn't drive any further. We took turns carrying Sean in the rest of the way. As we walked the forest dripped from melting heavy snow that clung to all the new leaves and drooping branches.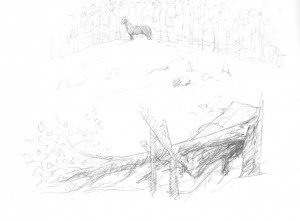 Crushed shed after the storm.
When we got to the stream I looked up the hill to see Danny's shed crushed by a huge tree that had come down from the weight of the snow. I screamed, "Danny!" and ran to the shed. He was not there but the poles were still tied closing the entrance. My heart pounded and I was about to cry when all of a sudden Dan whinnied to me. I looked farther up the hill and there he was, standing at the knoll. I ran up to him and hugged him around the neck. Then I checked him all over for wounds or broken bones. All he had was a bruise on his back, but he walked fine. It was a miracle! We never did figure out how he got out of the shed with only a bruise. I put liniment on his back everyday for two weeks and didn't use him during that time. He healed up fine.
I should have trusted his instincts not to be in that shed and I never tied him in again. The many adventures Danny and I had together built a trust between us. I knew if I was with him I could get any job done or out of any trouble. We listened and watched one another and by respecting the other's instincts, we solved problems. Danny took care of me and he knew I would take care of him too. The more time you spend with an animal the more you know each other. Working with him every day gave us the opportunity to have a special bond. I don't think I will ever be that close to a horse again.
---