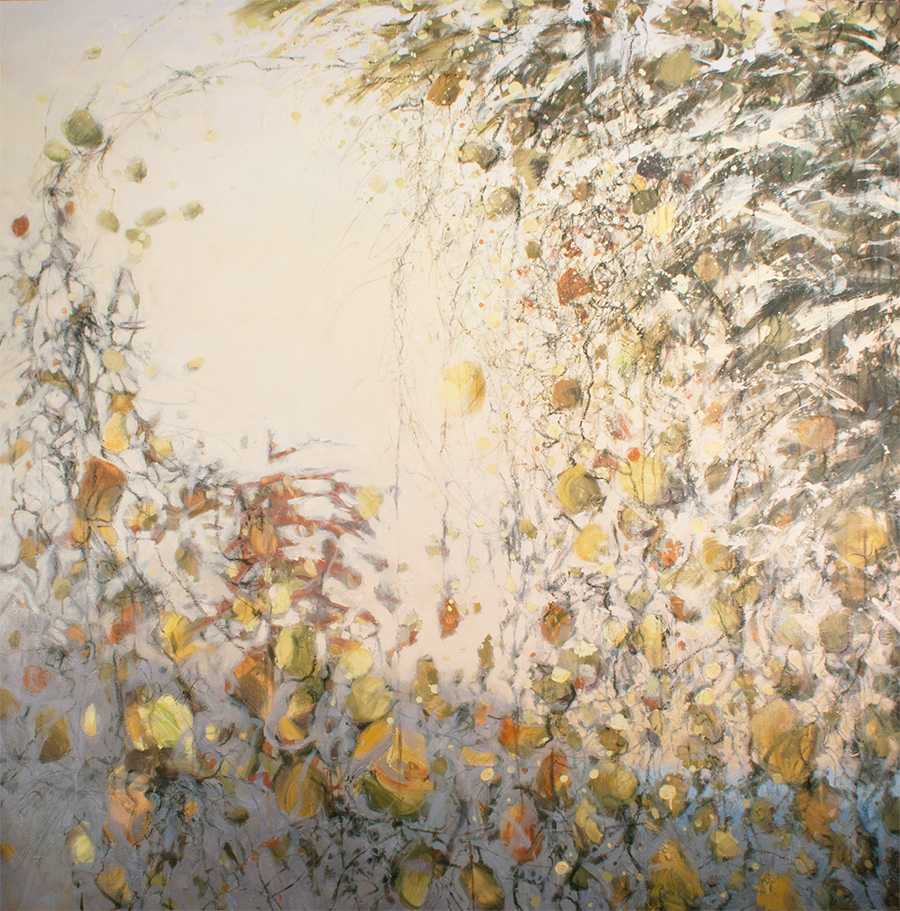 Tomorrow         70×70 inches, oil         2020         Jamie Young
Tomorrow depicts Bittersweet, Virginia creepers, Fox grape, Sumac, and White pine.
"Our climate is changing, and as it warms invasive vine species are increasing at an alarming rate, taking over trees along rural roads and urban landscapes. My work focuses on the struggle for survival of these competing old and new plant growths. The chaos of the tangled vines and light hitting new leaves serve as a visual metaphor for our complicated and threatened world. Our perception of the natural world's allure is also changing; there is an essence in the vines that is intrinsically beautiful and yet dark, creating a new concept of the Earth that I approach with hope for our planet and us."
---
Jamie Young deftly integrates the substance and the subject of her paintings. With dense fields of swooping brushstrokes and glancing lines, she articulates abundant, tumultuous, encroaching vegetation. Balancing the muscularity of her line and form, she delicately renders fleeting atmospheric effects with luminous veils of pale color that conjure sky and light beyond the canopy of branches and vines.
The paintings are alive with sensation. The sights, smells, and feel of their settings – time of day, weather conditions, season, even temperature and the dampness of the air – become almost palpable. Young's works are virtuosic compositions, symphonic in the scale and complexity.
– Mara Williams, Chief Curator
Brattleboro Museum and Art Center
---
New work in the Landscape Show 2020, Feb.5 – March 14, reception Feb. 8th.
William Baczek Fine Arts, 36 Main St. Northampton, MA